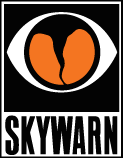 NWS Wakefield SKYWARN
Amateur Radio Support Team
WX4AKQ Wakefield, VA
Authentication Required
You must log in to access this resource. Please enter your assigned username and password, then click Log In to continue your session.
User Warning
You have accessed a computer system operated on behalf of a U.S. Government Agency. If you are not an authorized user, please disconnect now.
Unauthorized access or use of this computer system may subject violators to criminal, civil, and/or administrative action. All information on this computer system may be intercepted, recorded, read, copied, and disclosed by and to authorized personnel for official purposes, including system maintenance and quality control purposes or for criminal investigations. Access or use of this computer system by any person, whether authorized or unauthorized, constitutes consent to these terms.
This system is for the exclusive use of the Wakefield SKYWARN Amateur Radio Support Team and specific individuals associated with designated partners of the SKYWARN program. This system is for official SKYWARN operations and training purposes only.
Use of this system is subject to the terms of the SKYWARN IT Systems Policies as defined in the SKYWARN Operations Manual.
AUP Summary Warning Updated September 11, 2014